Renovation is an exciting endeavor. It certainly needs thorough planning and a lot of work, but it also is a wonderful opportunity to unleash your imagination and creativity. But while your renovation plans concentrate on changing furniture, layout, color palettes and overall interior style (as it usually does!), there is something that is often left neglected. Look up! Yes, it's the ceiling we are talking about!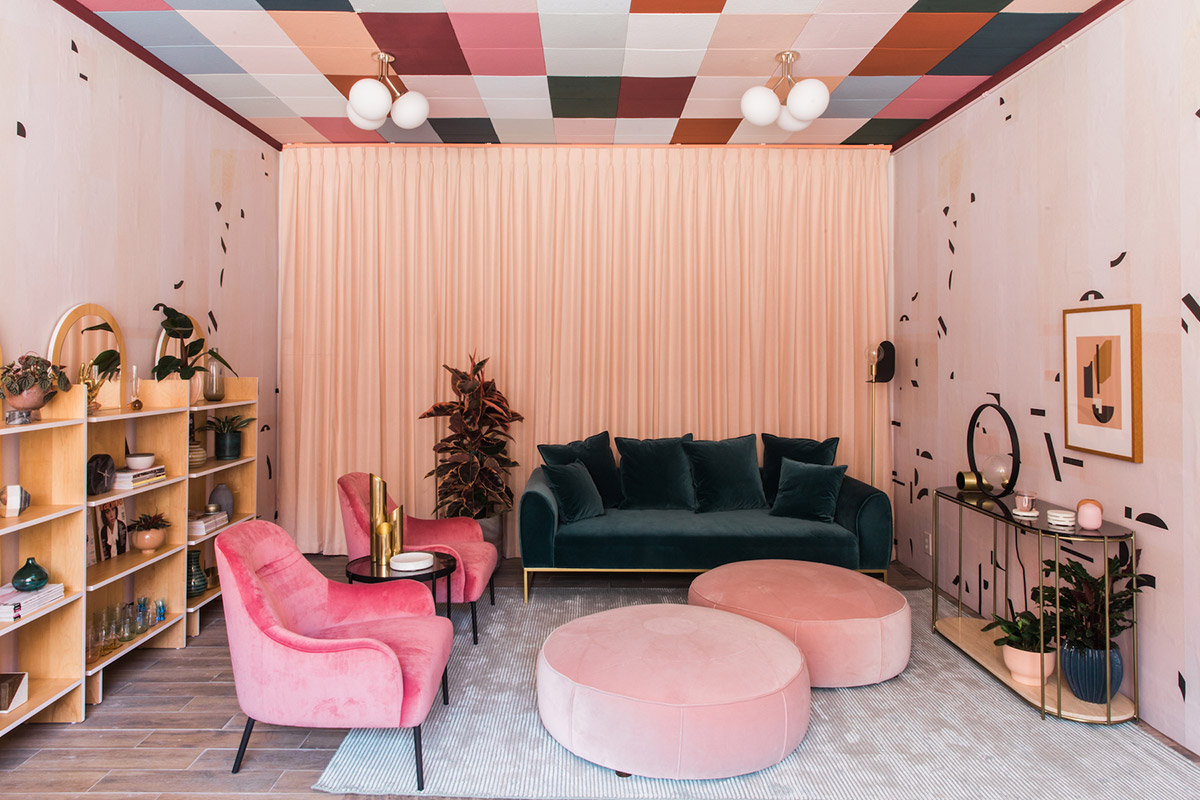 Image credit: Echo and Earl via Design Sponge
The ceiling is perhaps the largest "wall" in a room. Leave it empty and boring and even the most beautiful interior styling will have far less effect than the one you've expected.
We offer you here 7 smart and effective ways to spruce up your ceilings for an eye-catching 'Wow!' effect.
Most people would use ceilings just as a convenient surface holding a couple of lighting fixtures enough to provide sufficient light in the room in the dark hours of the day. Is it really enough, however?
Lighting, in fact, is a great way to add a sophisticated touch to the overall styling of the entire space. Contemporary industry offers thousands of designs of lighting fixtures and you can easily find the ones that would match the interior style of your choice. But these designs would also let you create stunning shapes and patterns of light projected onto the ceiling's surface. It's time to decorate the ceiling by "painting" it with light!
Let's not also forget that modern ceiling lights largely involve the use of LED light-bulbs, which is a smart eco- and budget-friendly solution to benefit from. In the image below you will find a wonderful example of LED ceiling lights at Lights.com: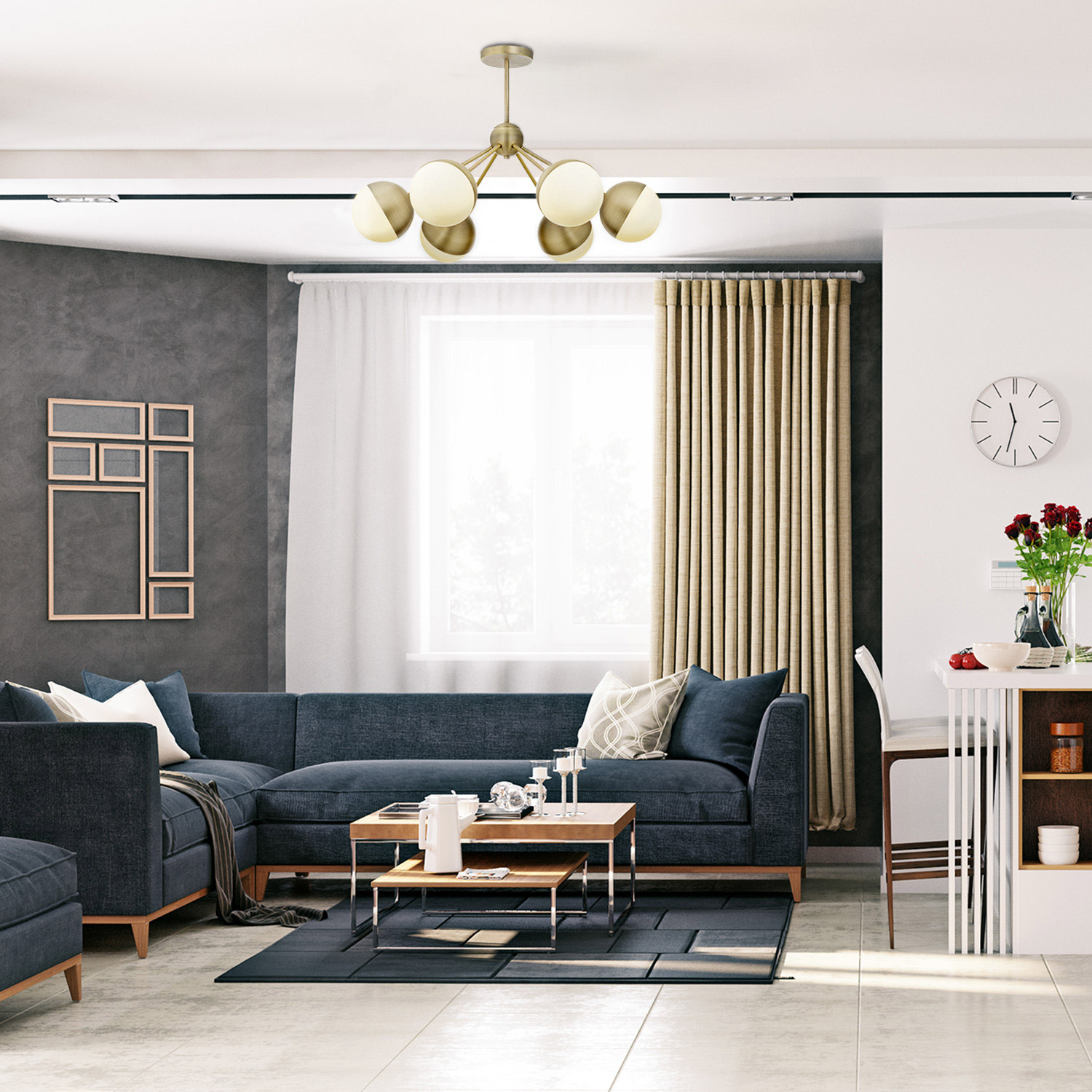 If you want to go even further than that, mixing and matching ceiling lights will make a one-of-a-kind ceiling "picture." But we advise talking to a professional designer before taking this route. It's easy to go too far with this by doing it alone.
When it comes to color, it is a tradition to paint the ceiling in white. But why leave it so plain? Try to think of the ceiling as yet another wall, and incorporate it into the color palette of the respective space. For one, the light projected from the ceiling pendant(s) and other lighting fixtures will be better visible and have a far better effect. Two, choosing a color different from white will provide a beautiful contrast to the side walls, especially if those are white. Finally, painting the ceiling in color will often make it look higher and can add more pleasant ambiance in the room.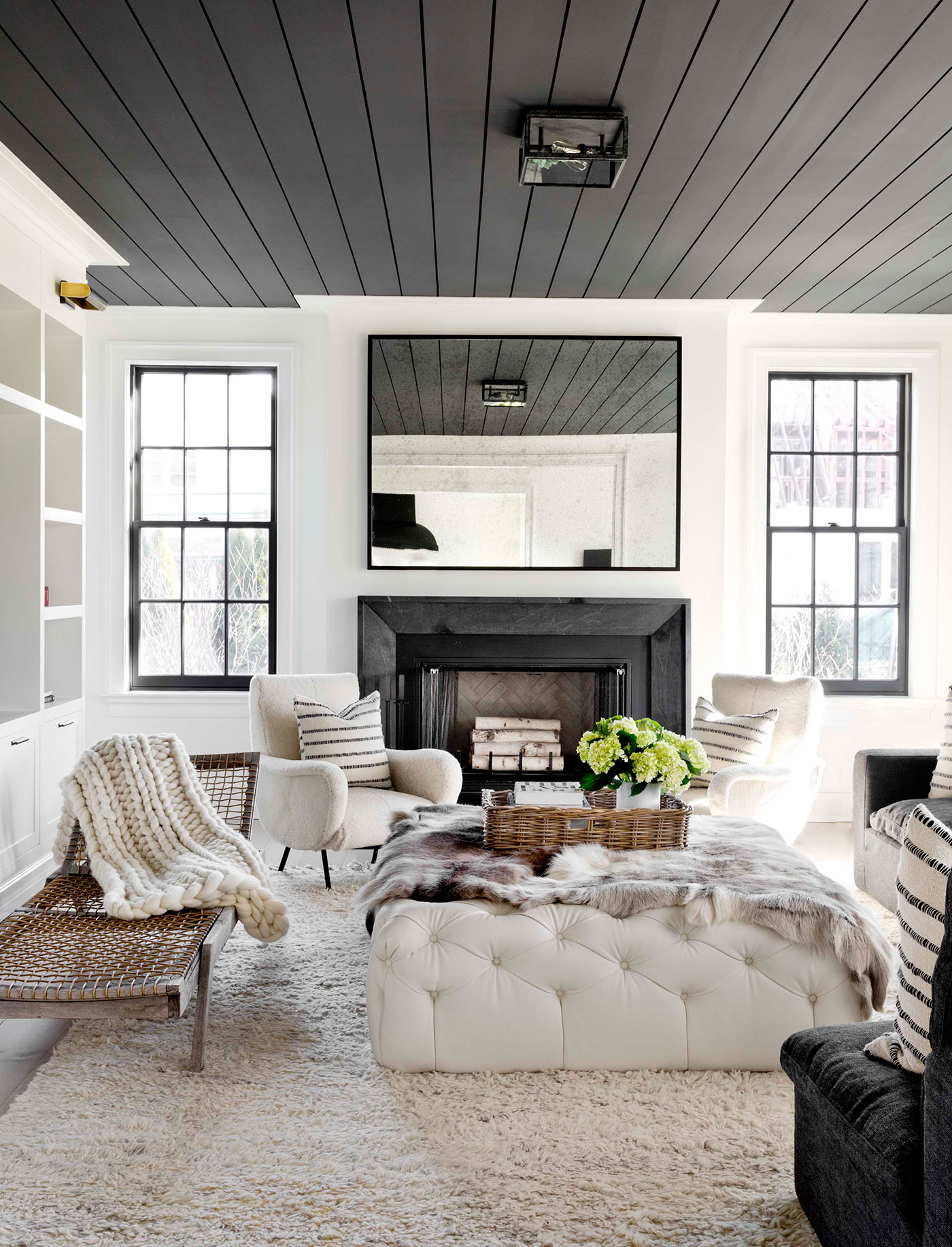 Image credit: Tamara Magel
If the idea of having an entirely colored ceiling is too daring for your taste, try another smart solution. Draw just a line of a matching or contrasting color at about 8-10 inches from the ceiling's edge. It will outline the ceiling itself and will also serve as a beautiful stylish effect.
Using stencils is another excellent way to make the ceiling look far from boring, but classy and elegant instead.
Stencils are offered in a wide variety of patterns to choose from. Even if you don't find the talent of an artist in you, with these ornamented templates you can do wonders. You can even go bold and use different shapes and different paint colors to achieve the desired effect.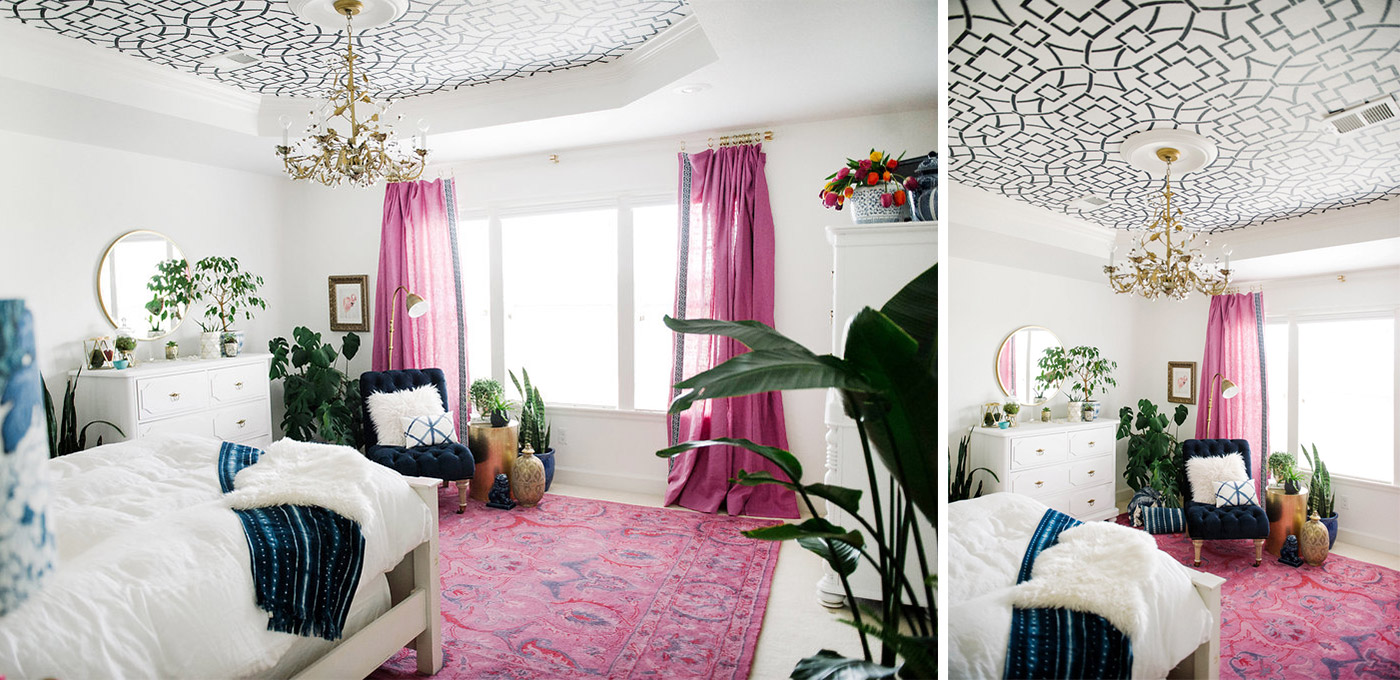 Image credit: Suburban B's
If having the entire ceiling covered in painted stenciled patterns is too much for you, go classic with a painted ceiling medallion. Such a sophisticated ornament will have a ravishing effect and will also make the ceiling pendant a focal point to marvel at.
Wallpapers on the ceiling?! Don't be hasty in dismissing this option! It may at first seem a bit odd, but in many cases it can prove to be an awesome solution. The idea of wallpapering not just the side walls but the ceiling as well is not even a novelty. Interior design styles such as classic, French country, Mediterranean romantic baroque, shabby chic, etc. often count on it to add more charm and elegance to certain spaces.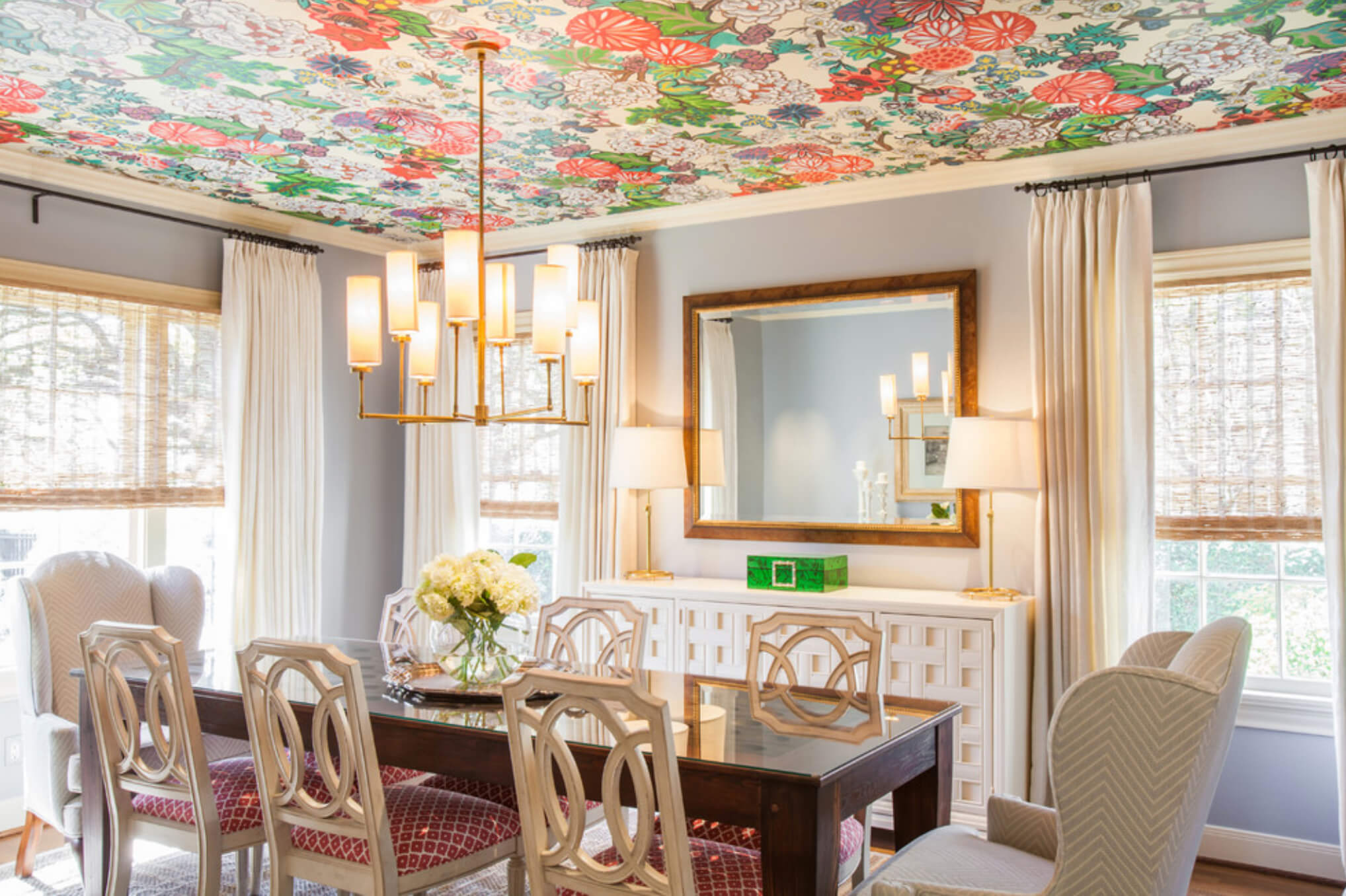 Image credit: Laura U Interior Design
Designers swear that wallpapers look even better and have a greater effect when placed on the ceiling than on the walls only. Even with other interior styles, you can still use this solution to create beautiful ceilings. The market offers wallpapers of such a large variety, (and not just in patterns, but in quality and finishing, too!) that you will always be able to find something suitable.
Airy drapes hanging from the ceiling in beautiful arrangements will turn any space into an elegant and romantic haven. No wonder this styling is often seen in large halls for big events, but also in master bedrooms, little girls' rooms and even over open-air nooks for resting and enjoying peaceful privacy.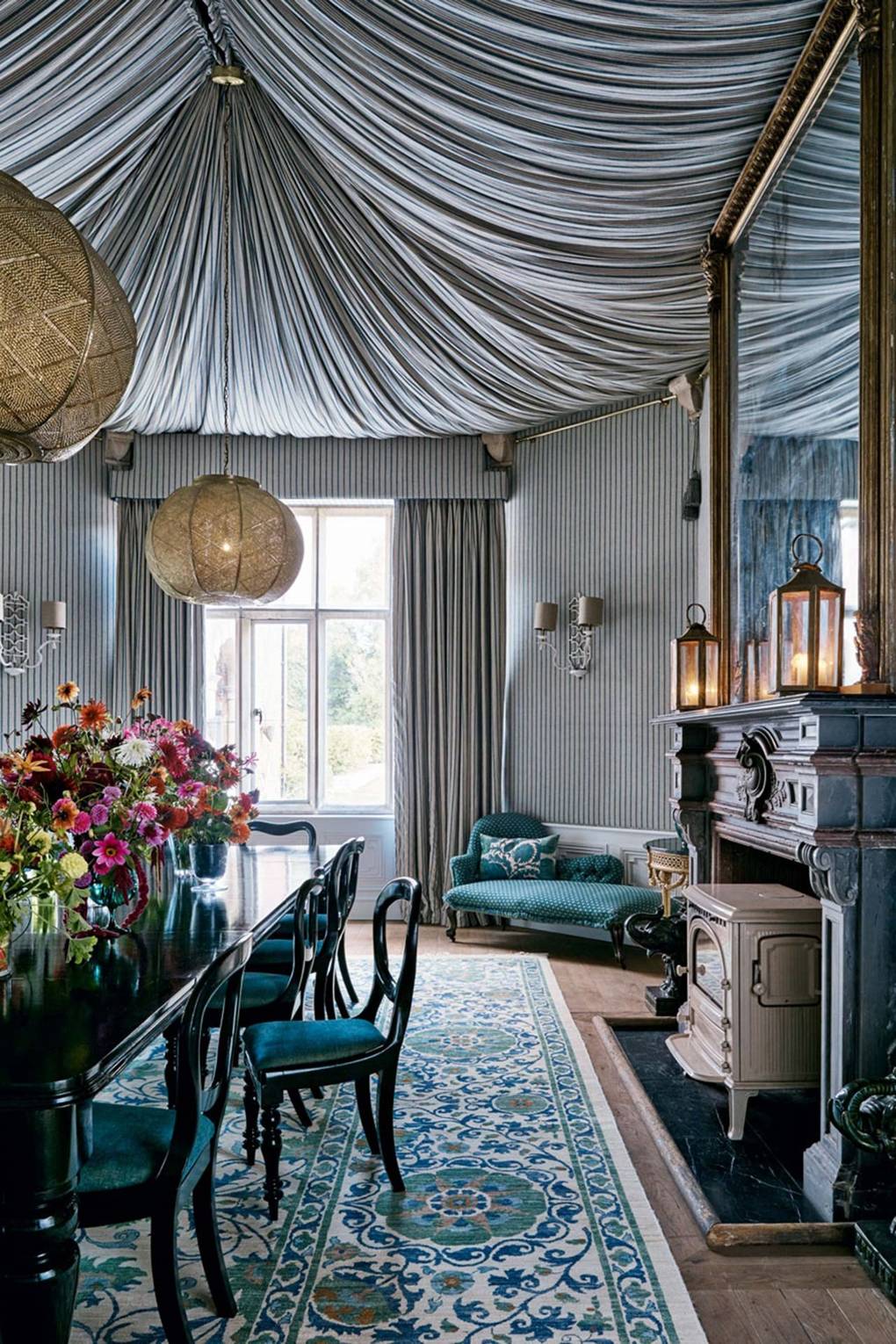 Image credit: Henri Fitzwilliam-Lay
Planning the right hang points and placing the right perimeter anchors, you can orchestrate the light curtain strips in various beautiful shapes  – in "waves", crossing each other, forming airy "blossoms" or "sun-rays", following the shape of the central ceiling pendant, etc. Add a few strings of fairy-lights and the effect is magical!
Influenced by the trendy Industrial interior style, ceiling tiles have lately become top fashion in interior design. Tin ceiling tiles and styrofoam ceiling tiles are perhaps the most popular options, but the market lavishly offers these decorative items in various other materials, too.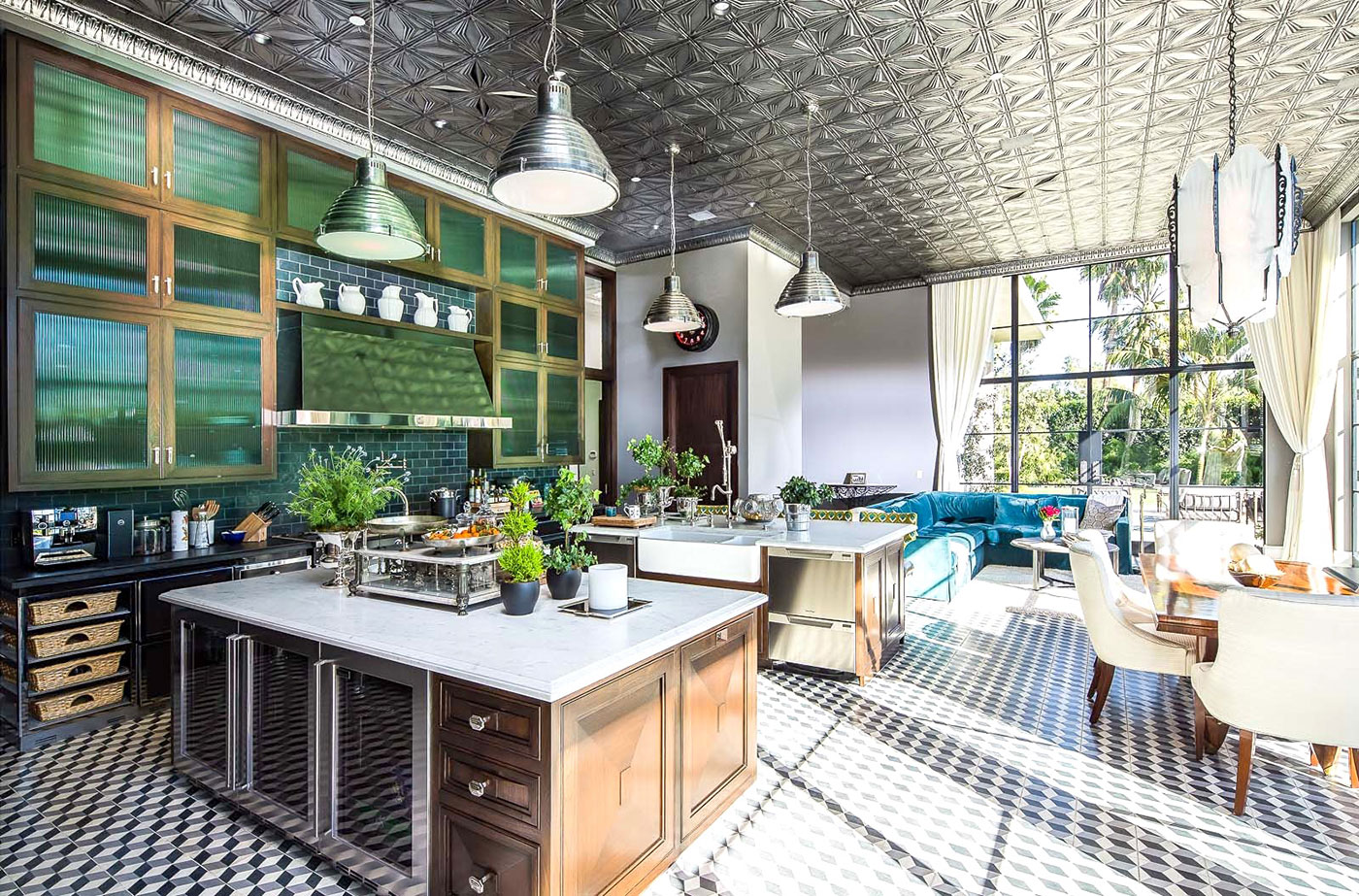 Image credit: Decorilla
The choice of patterns, colors, fancy designs and finishings is mind-blowing. So, with just a few such tiles your ceiling may be turned into a stylish and posh interior masterpiece! Here is a detailed installation guide if you opt for this option.
Wall mirrors have always been among designers' favorite solutions to "play" with space and light. But mirrors on the ceilings have so far enjoyed only very limited applications – most often used to add a bit of "playful" (and yes, sexy!) ambiance in some bedrooms. Until today! Because today the market is offering the extravagant flashy mirror stickers.

Image credit: Amazon
Since their material allows it, these decorative items can be cut into a myriad of shapes. You have the freedom to arrange them in a way that pleases you most. Best part of using mirror stickers is that, when applied around the ceiling lighting fixtures, they reflect the light and create a stunning effect.