Natural light is said to have the power to create or break the looks of a space. Yet, there are some premises and even entire city apartments or townhouses with no windows. Fact is, though, that even regular homes may have windowless rooms. It might be a basement guest room, a corridor, a powder room, or an internal bathroom.
Having a windowless bathroom is an architectural solution seen often in various residences, large or small. Without natural light and fresh air pouring in, these premises might at first sight seem dark, unwelcoming and rather unpleasant, yet there are a lot of smart ways to lighten up a windowless bathroom and improve the ambiance so as to ensure a most pleasant experience.
Here are some great windowless bathroom ideas to consider and boost up your inspiration. 
# The power of light
Compensating the lack of natural light with artificial light is one of the best solutions on how to lighten up a dark bathroom. The amount of artificial light will however depend on your personal taste.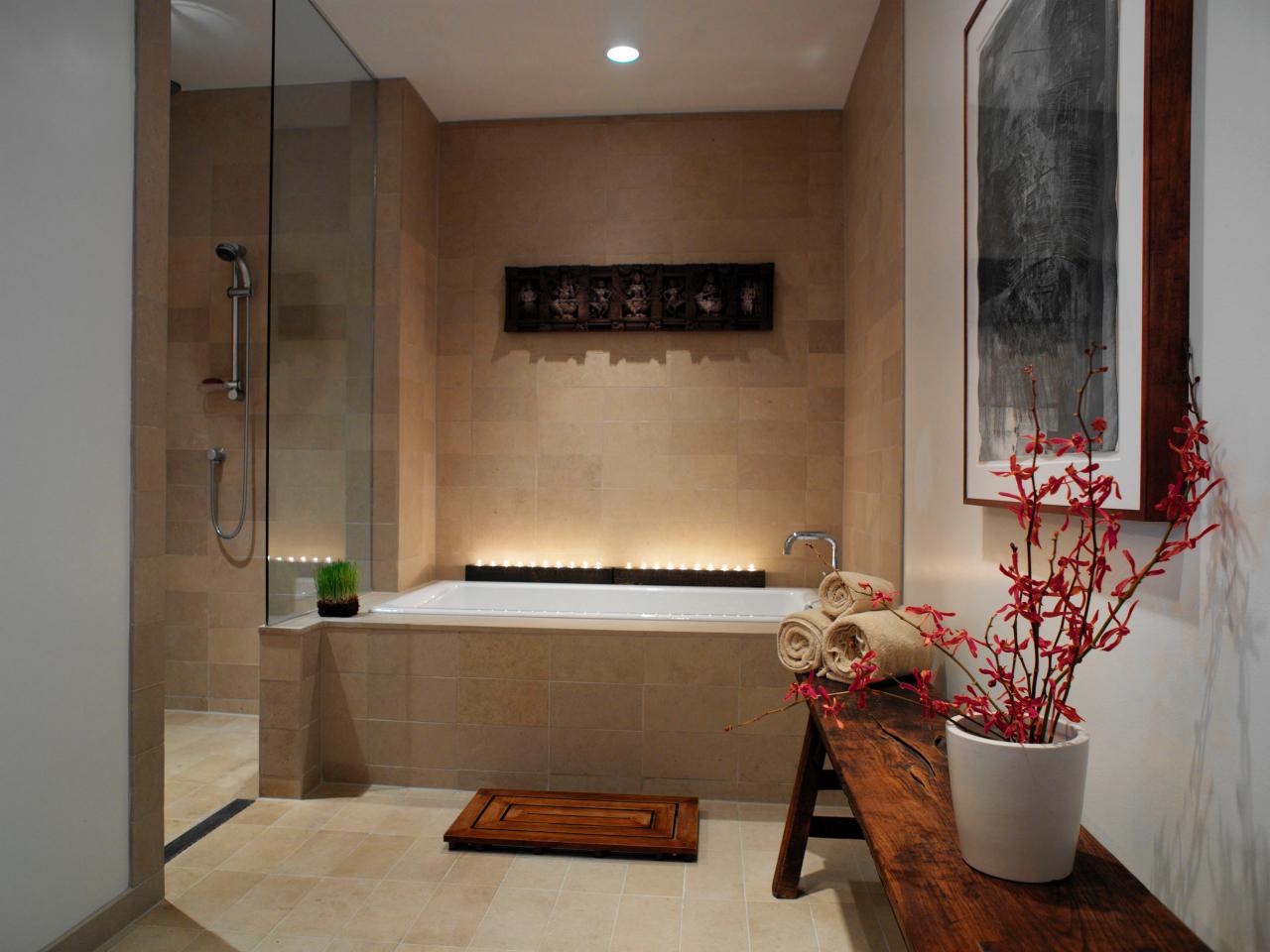 Image credit: HGTV
If you wish to turn your bathroom into a relaxing spa center, you won't need that much light after all. In this case, a few small in-built ceiling fixtures will be sufficient to provide soft light and will make the ceiling look like a romantic starry night sky.
To boost up the wellness & spa effect, consider adding a few candles and enjoy their bright flickering light. These solutions can be complemented by introducing bathroom accessories with in-built lighting. Lights incorporated in/around the bathtub or in the shower not only add light, but also ensure its even and soft distribution. And they look so posh!
SEE ALSO: Interior design styles: What's trendy?
For easier and more comfortable routine bathroom activities you might still need a bit more light. Consider then introducing vanity lighting. Vanity lights reduce shadows and provide enough light right where you need it.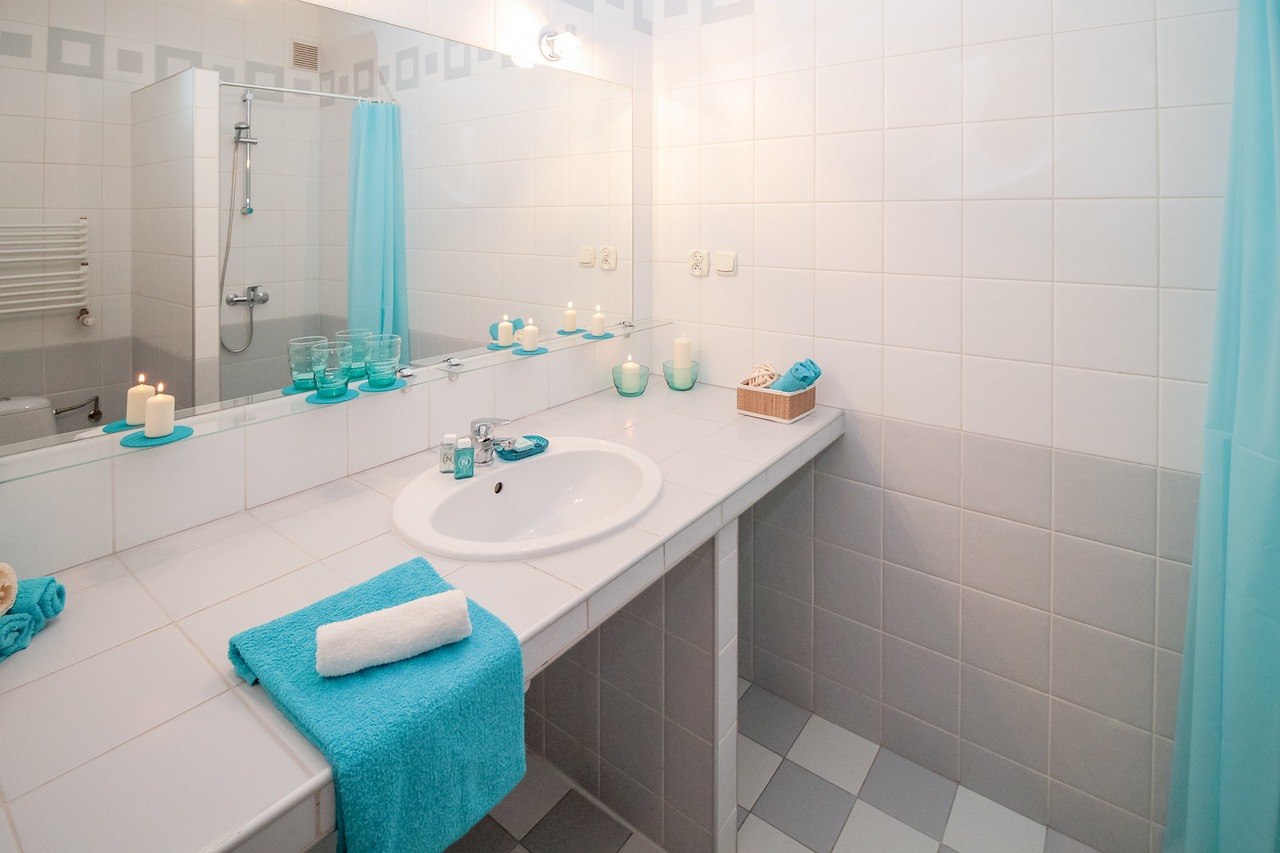 Should you however prefer having your bathroom brightly lit, this can be easily achieved by installing strong light sources. In such case consider using white light to blaze up your windowless bathroom. Not only the room will appear bigger and brighter, but white light has the closest to natural light effect, too.
Tip: Layer the lighting! Overhead lighting provides vertical light coming straight down. To avoid shadows it should be complemented by horizontal light sources that will bring back the natural glow to the overall space.
# The power of color
A windowless bathroom would definitely require brighter color palettes.
Start with white. White is a great choice since it can reflect and amplify the available light throughout the entire space making it look larger and  brighter. You can introduce white not only on the walls but also by choosing white bathroom furniture and accessories, too.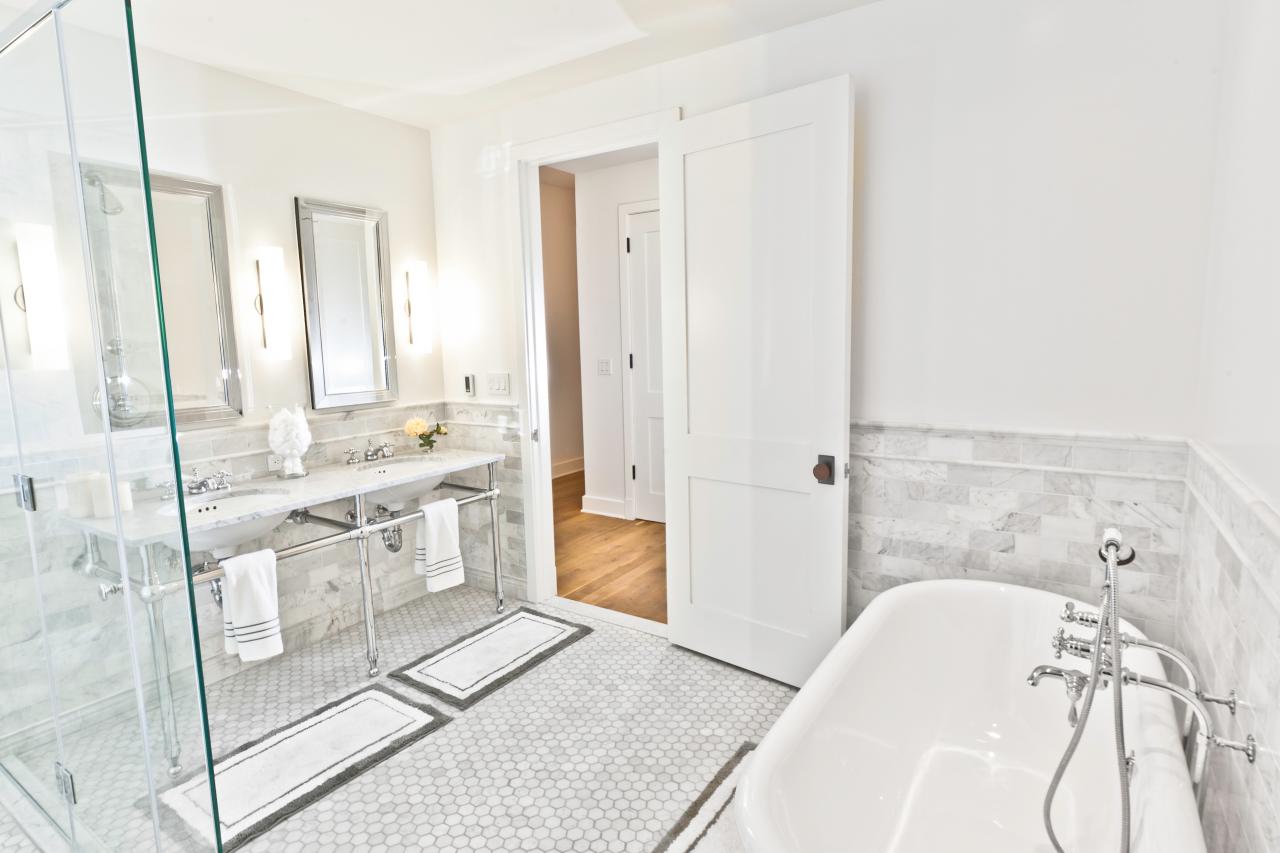 Image credit: HGTV
On the other hand however, the 'canvas' of your windowless bathroom may look too dull if left white only. Consider introducing spots of bright colors here and there contrasting against the white background, to bring in fresh and cheerful ambiance. These can be small pictures on the walls, a line (or some other shape) of colorful tiles, a few small bathroom accessories or even toiletries in bright and vivid colors.
Murals, wall stickers and wallpapers can also be used to brighten and freshen up the interior of a windowless  bathroom. And if the shower/bathtub area is separated by a colorful shower curtain, it will add even more cheerful mood in the room. Shower curtains with bold prints and in light colors are ideal for smaller bathrooms.
# The power of reflection
With no window to let light in, you'll need to find smart solutions not to lose and even amplify whatever available light there is in your windowless bathroom.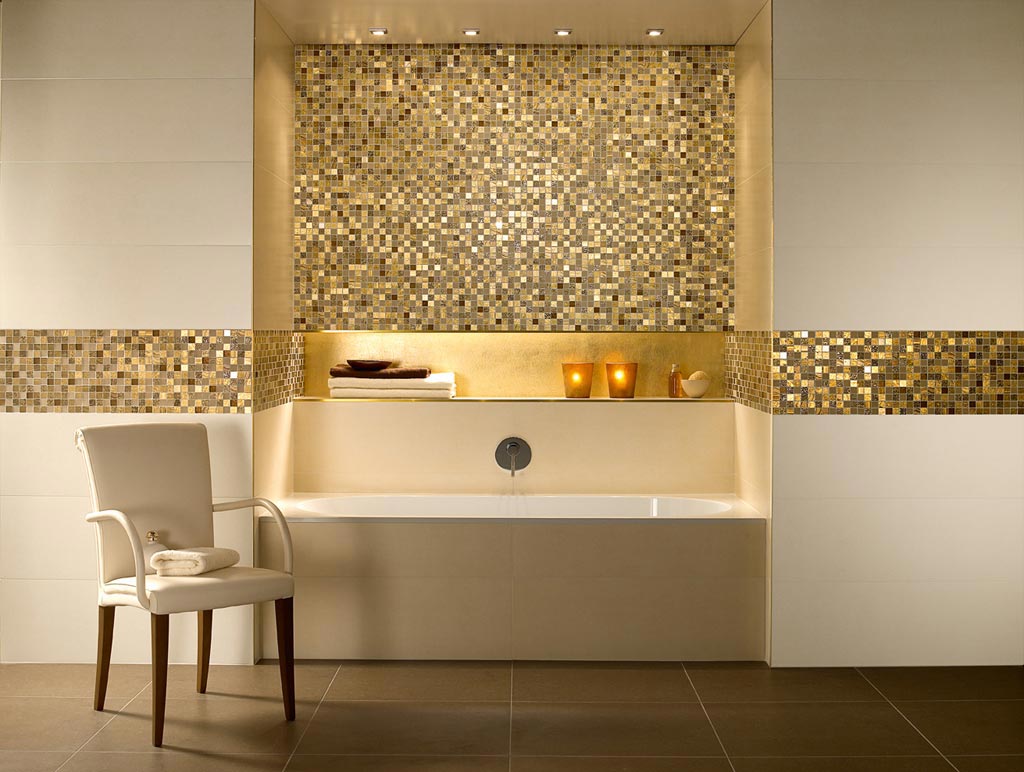 Image credit: Villeroy & Boch
One such solution is introducing reflecting surfaces. Polished metal, glass, mirror and Lucite are great materials that don't absorb light. The best thing about them is however that they have the ability to reflect light and mimic the feel of a window.
SEE ALSO: Incredibly awesome showers
Another option is to cover larger parts of the bathroom walls with glossy tiles. Light colored tiles in particular not only add brightness but their surface reflects light and helps to better illuminate the room. Glossy tiles can therefore visually expand and brighten up your windowless bathroom.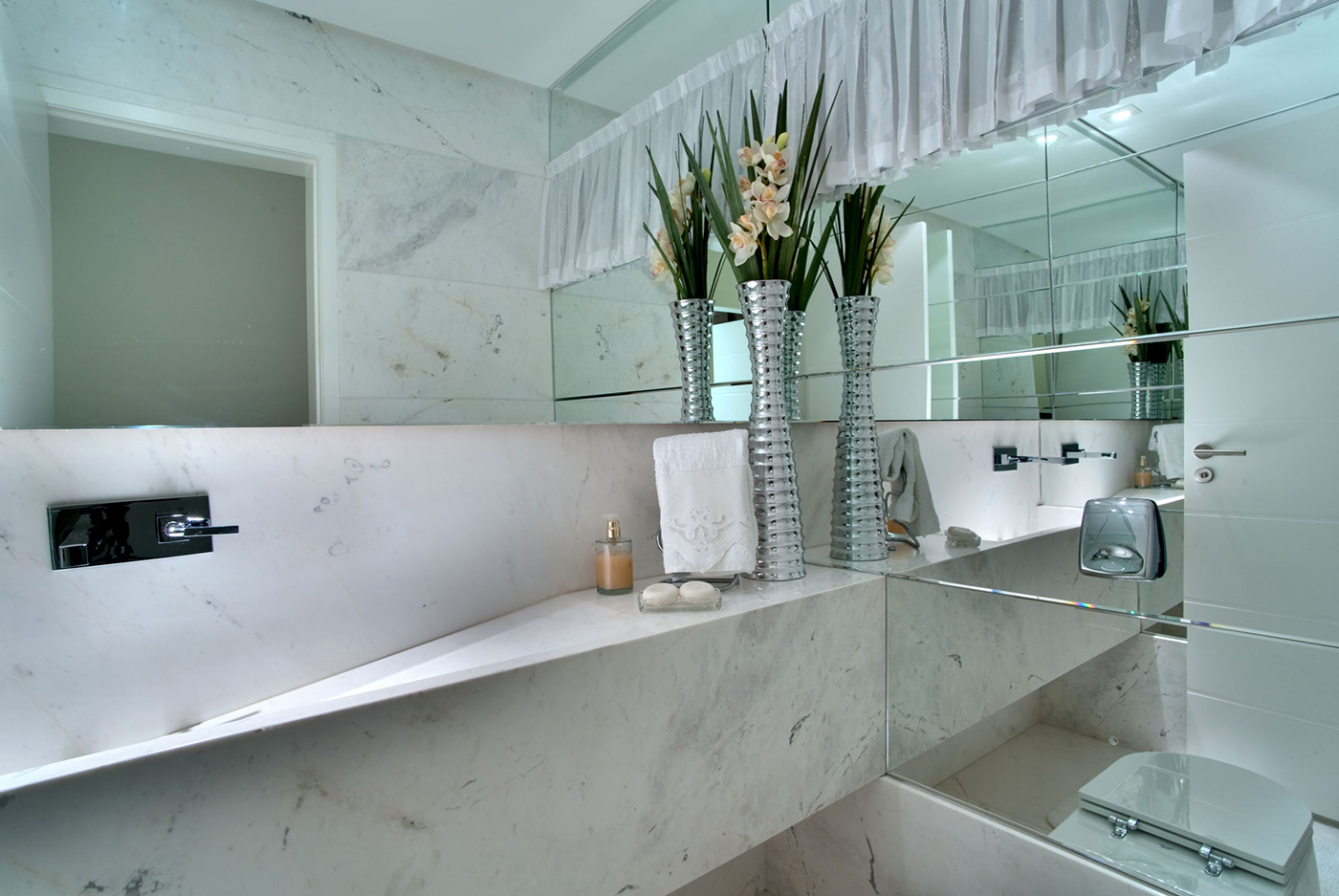 Image credit: Dayala+Rafael Arquitetura
The best option to enjoy the power of reflection is however by introducing multiple mirrors. On one hand, mirrors placed in various (even unexpected!) places expand the space and add layers of depth. On the other hand however, mirrors reflect light and generously give it back to brighten up the room.
An entire mirror wall, large shapes of mirror elements, mirror glass doors of the shower/bathtub area, these all will maximize light and make your windowless bathroom sparkle.
# The power of life
Nothing can make a room more pleasant than live plants! These are such a joy to the eye and also serve as natural air purifiers and fresheners. One of the problems with windowless bathrooms, is a lack of ventilation that can lead to musty odors that typically only air purifiers can neutralize. However, if it's only a mild odor, plants in the bathroom will do a wonderful job of deodorizing the air too. Live plants however need light and this is the only thing missing in your bathroom.
Luckily, there are windowless bathroom plants that can do quite all right without natural light while still being capable of growing well, to bring the joy and excitement of life in the room. In fact, with its low light and high humidity, the bathroom makes the perfect home for many houseplants! You only need to carefully choose the right ones.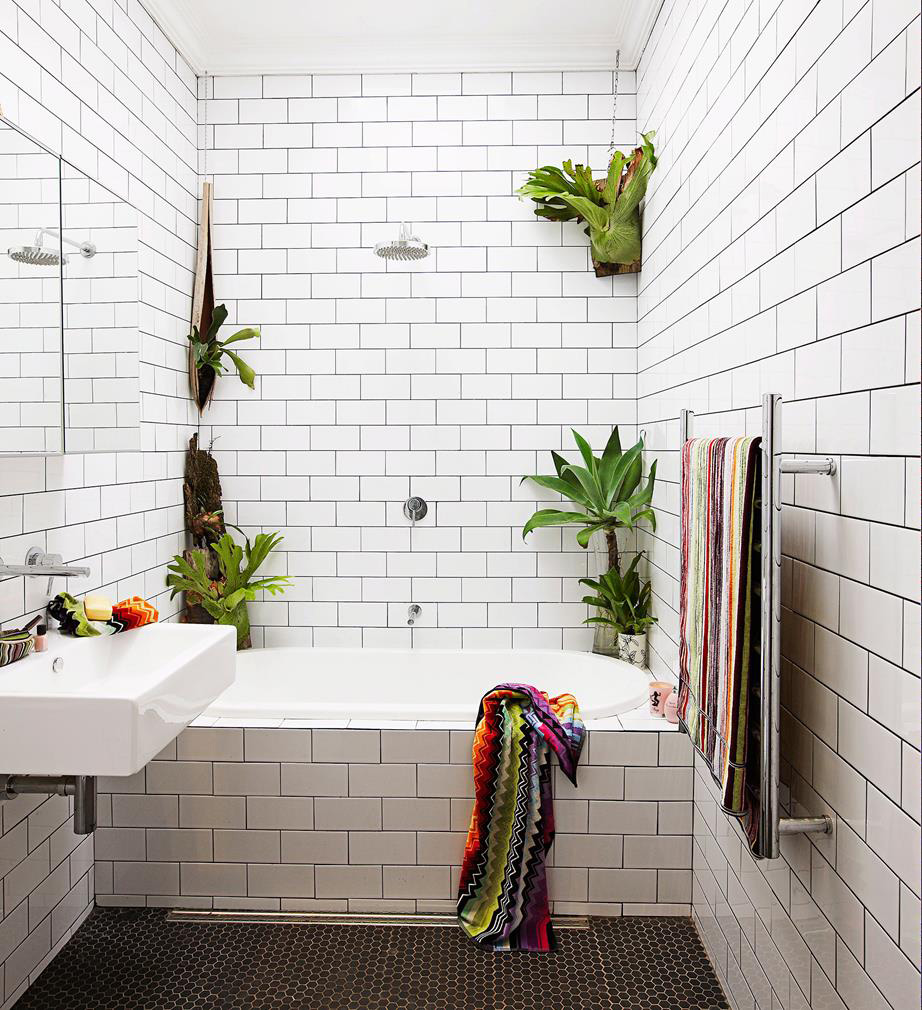 Image credit: Homes to love
Air plants, for example, are very suitable to be introduced into the space of a windowless bathroom. Also plants like Boston fern, the cast-iron plant (Aspidistra elatior), Chinese evergreen (Aglaonema), the snake plant (Sansevieria trifasciata), also known as mother-in-law's tongue, Peace lily (Spathiphyllum) or Dracaena (Dracaena marginata) can grow profusely in windowless bathrooms. These plants look fabulous and add life and joyful ambiance.