The living room is the 'heart' of the house, the space where we welcome friends and relatives, but also the family get-together-and-have-fun room. In either case, the interior design of this particular residential area needs a color palette that inspires serenity, calm and comfort, yet one that can impress and make a statement.
Among the wide spectrum of colors and color shades, it is the blue palette that meets all these criteria. Blue is a cool color that radiates peace, calm, and sophistication, but it also symbolizes creativity and intelligence, trust, and loyalty.
Considering all this, a blue living room would then be the right choice. And while the blue color palette offers numerous amazingly beautiful shades and tones to choose from, here we'll focus on one of them – the navy blue.
Lately, navy blue has got extraordinary attention by everybody involved in designing contemporary interiors. This particular tone has become so popular that it is lavishly featured on all kinds of surfaces, textures, elements and items in the interior, and gets exhibited in an exciting variety of patterns.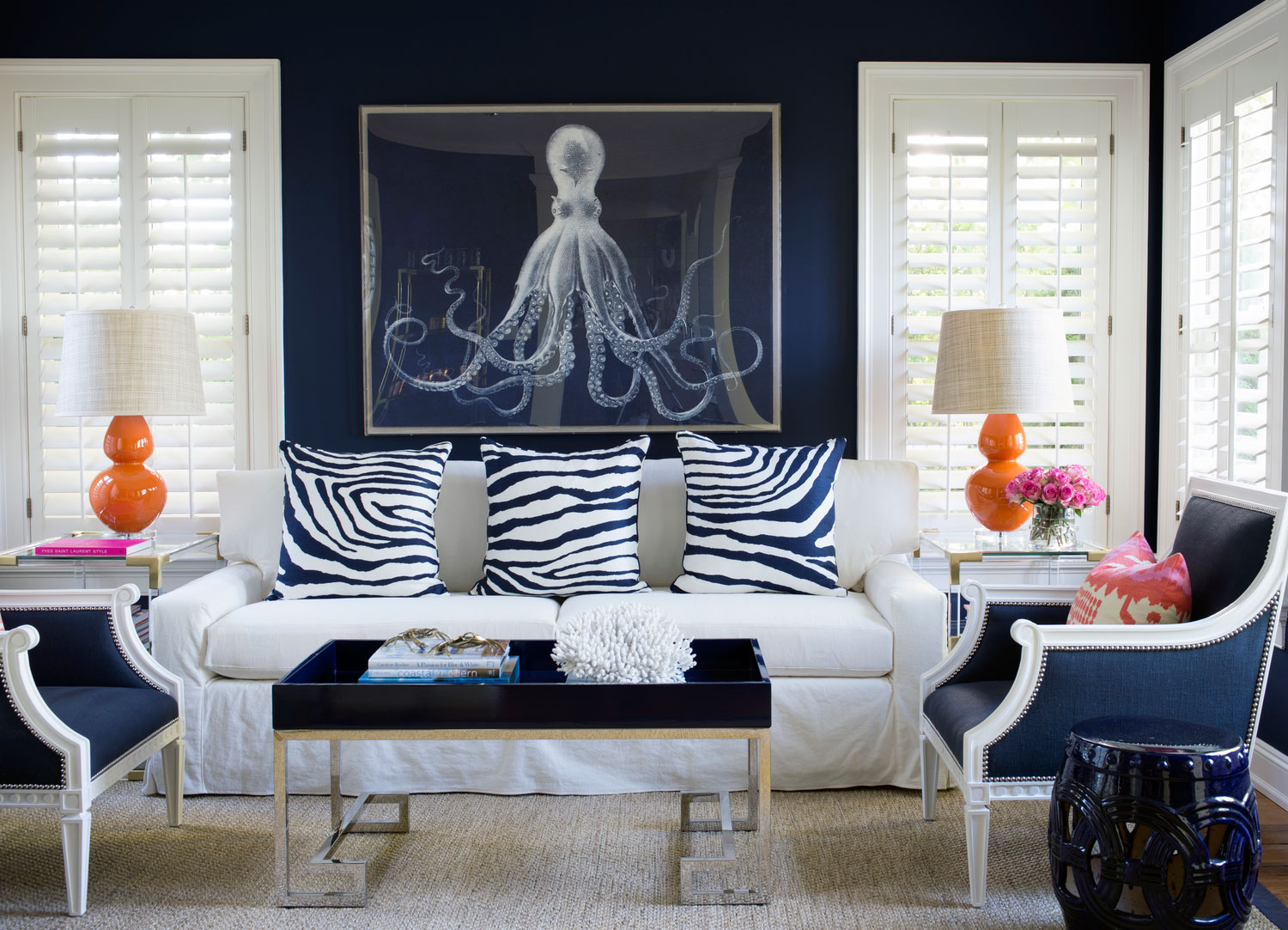 Image credit: Sam Allen Interiors
This is one of the darkest shades in the blue color palette, and it has some deep, soothing charm and strength. It may be considered a bit too masculine and somber, when associated with the British Royal Navy uniforms that it takes its name after but, when combined with crisp light colors, it also radiates some vivacious maritime feel that makes you think of the sea, of yachts, celebrities, and high-class style.
Being such a sophisticated and serious color, it is no wonder that navy blue is one of the top preferred color choices to highlight living room furniture and overall interior design.
There are many navy blue living room ideas and applications, but let's concentrate on some key interior elements where this color can be best featured on.
Wallpapers
Wallpapers in navy are truly spectacular. Dark, but not entirely black, this velvet color evokes serenity, calm, confidence and strength.
On the other hand, wallpapers in this dark shade provide elegant and modern look, and can match almost every décor style.
The flock wallpaper by the iconic Dutch designer Marcel Wanders is a wall artwork to marvel!
A daring combination of classical tapestry pattern, charcoal background and mysterious dark silhouettes of dancing fairies, this design artwork adds a magic feel and soothing ambiance.
Sofa
Furniture pieces in shades of navy blue are among the most popular navy blue living room ideas.
The effect of this dark, unobtrusive color can however surprise you!
Some furniture pieces in navy blue seem to "disappear" and look almost illusive, especially when placed against a wall or a backdrop also in navy blue shades. Such optical 'trick' is perfect for achieving more spaciousness of the room.
A fine example of how sophisticated and beautiful living room furniture looks in navy blue is this Roundish Sofa by Naoto Fukasawa. Its elegant shape and design, just as much as its velvet color, envelope the sitter in soothing comfort.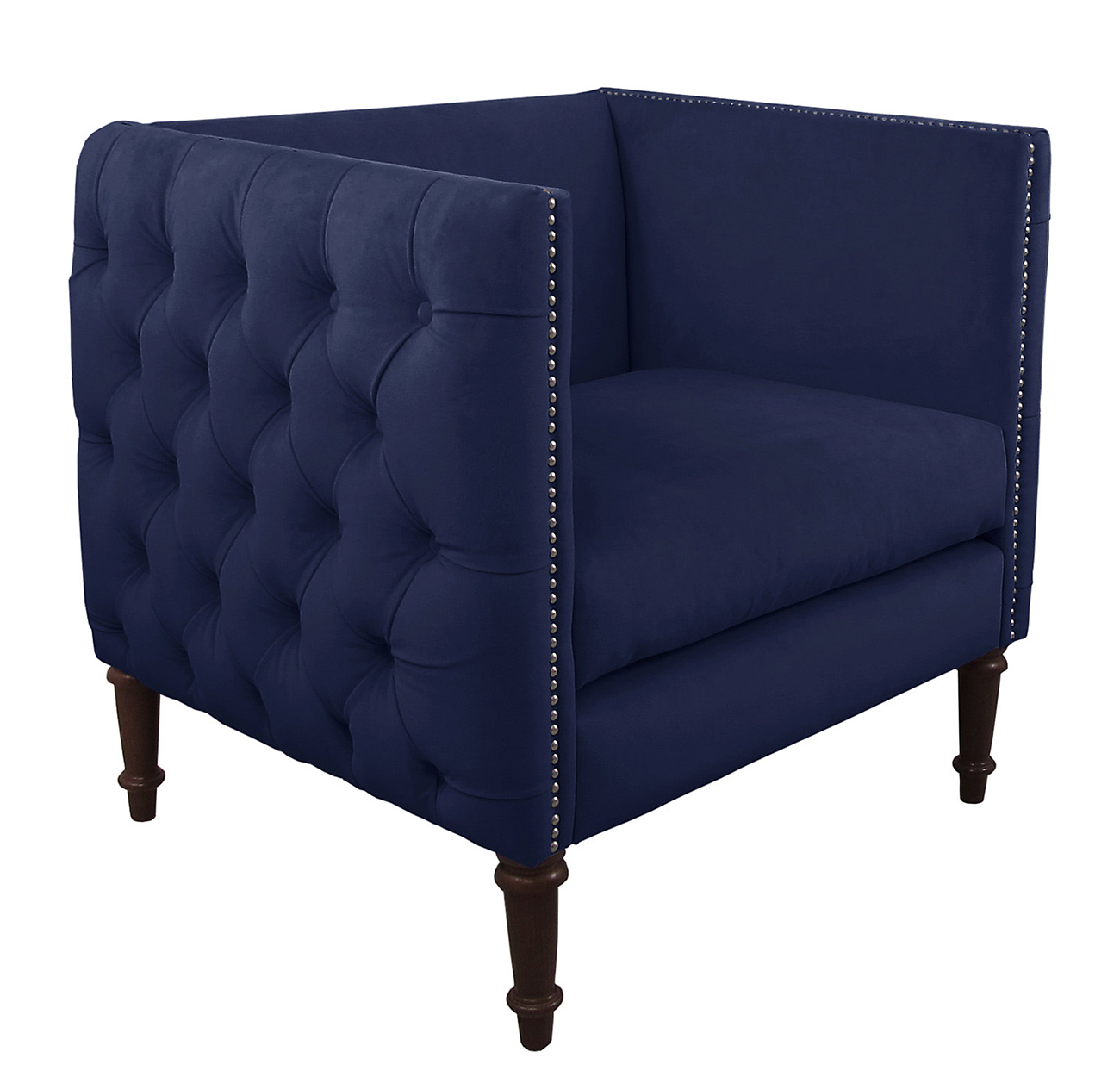 Image credit: One Kings Lane
Chair

For all its aesthetic qualities and the very specific ambiance of comfort and sophistication it provides, navy blue is one of the preferred colors for furniture pieces not only in domestic residences, but also in many public premises, as well.
Clubs, offices, hotels, they all make the effort to create at least one space where their guests can feel 'at home', and in many cases navy blue is the color of choice for the elements of the interior design in such premises.
This Aldridge tufted chair is a fine piece of classical furniture, featuring soft luxurious upholstery, and elegant timeless design, all wrapped in navy blue elegance and soft velvet feel.
Even if this chair is a great club furniture piece, it would fit perfectly well at home, too!

Image credit: One Kings Lane
Tray table

No other color than navy blue can inspire that unique charm and maritime feel we all love! Its very presence makes us dream of romantic sea voyages, chic yachts, adventures…
Navy blue is therefore a hot trend when it comes to interior design. And while the color itself is featured in various ways, when in combination with adequately designed furniture, its effect is even stronger.
This elegant tray table is an excellent example of the perfect match between a typical nautical color – a lighter shade of navy blue, and a sleek furniture structure.
The unique piece has a sophisticated shape provided by a gleaming brass frame crowned by a glossy lacquered top and bedecked with matching brass latches and accents. Perfect for serving drinks on deck, don't you think?
Champagne, please!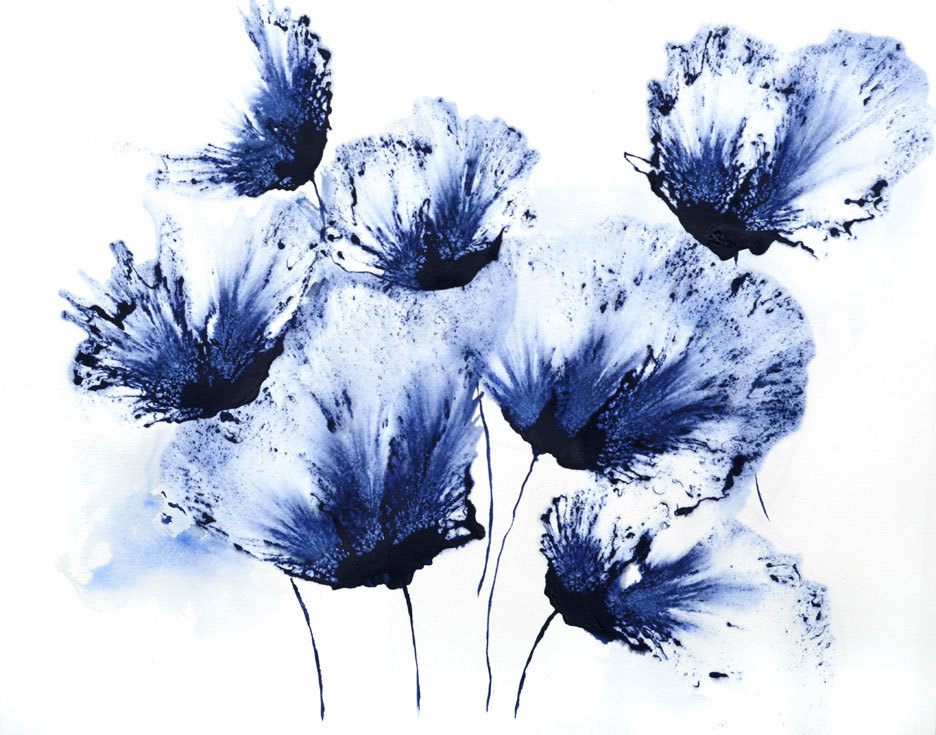 Image credit: Etsy
Art

From original paintings to modernistic compositions, any artwork in navy blue would look gorgeous against a crispy white wall.
Not only it becomes an impressive accent in the room, but it also adds depth and complements and emphasizes the entire interior design style.
The floral wall art in shades of navy blue by GalleryZooArt is an excellent example.
It is an original painting executed with professional acrylic paint on archival cotton rag paper and finished with matte spray varnish – a fine piece of art to adorn a living room wall.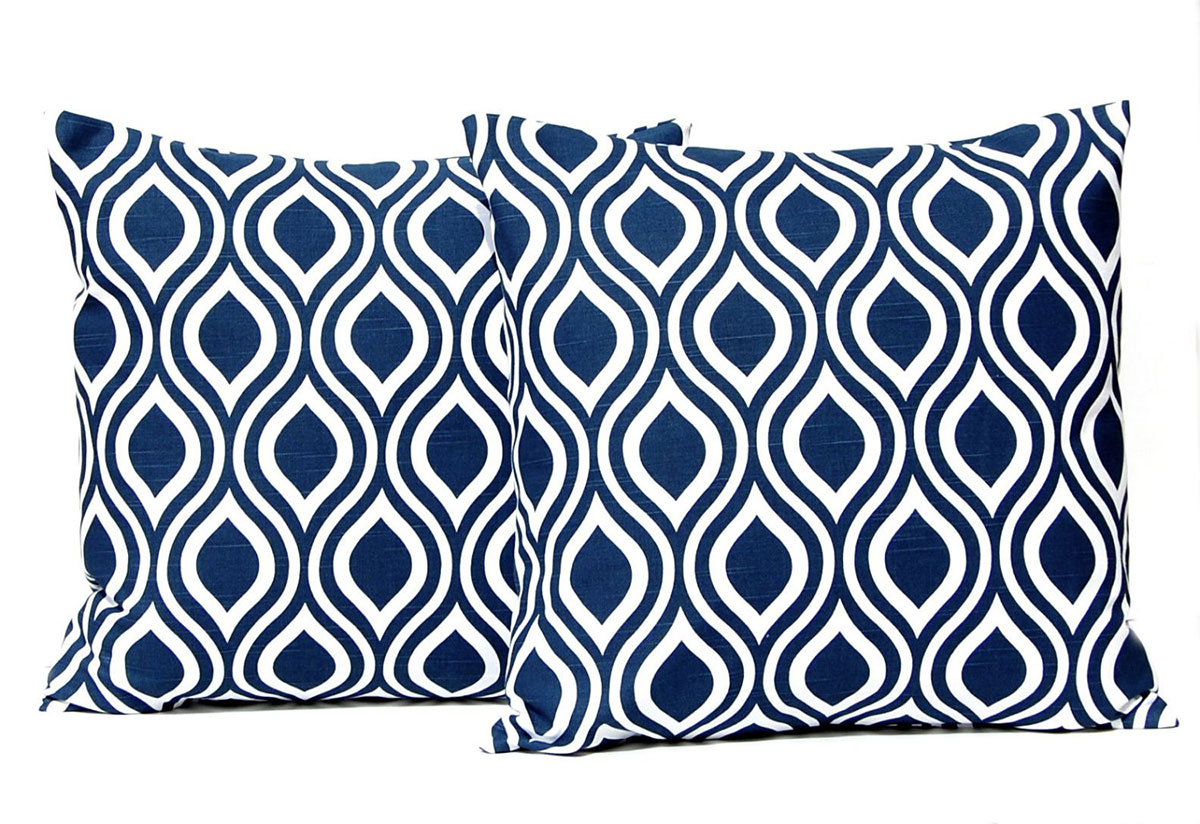 Image credit: Etsy
Cushions

When navy blue dominates in the interior design color palette, caution should be taken not to let it make the space too dark or too cool and uninviting.
The best solution to avoid this is balance which can be achieved through combining the dark shades of navy blue with lighter colors. This contrast can be featured in various patterns, from navy stripes, to whimsical shapes and patterns. And the best way to display such designs is on fabrics.
These throw pillows wrapped in cotton covers in navy blue and white patterns would make wonderful decorative accents on the sofa in the living room, bringing the charm of the summer and the beauty of the blue sea.
Rug

The floor is another area where larger elements of the interior design can be successfully featured. Carpets, rugs and similar items not only provide comfort but they also complement the chosen interior style and color palette.
The plush rug from the Hudson Shag Collection is a tangible delight, expertly power-loomed of fine polypropylene fiber.  Its soft, 2-inches high pile creates an incredible feeling of coziness and comfort underfoot.
The rug is offered in a beautiful design inspired by Moroccan traditions, and pops up in elegant navy blue.