When it comes to monochromatic interiors, you can really hit or miss. Despite the many advantages of the monochrome palette they feature, these are generally viewed as chilly and uninviting. Working with one main color and spreading it out to reach every corner of the home can be a major challenge but extremely satisfying if pulled off successfully. With proper planning and execution, monochromatic designs may be just as appealing to the eye as those in color. Architectural features, sumptuous materials, couture details, bold prints, and a splash of color can add dramatic contrast, richness, and warmth to the interiors.
The talented team of designers and architects from YØ DEZEEN worked closely with the client and homeowner to tackle one main issue: the floor plan. The focus of the entire project was to update the layout and make it more functional, more efficient. Once that was achieved, the creativeness with décor came in to play and modern dark interiors were implemented.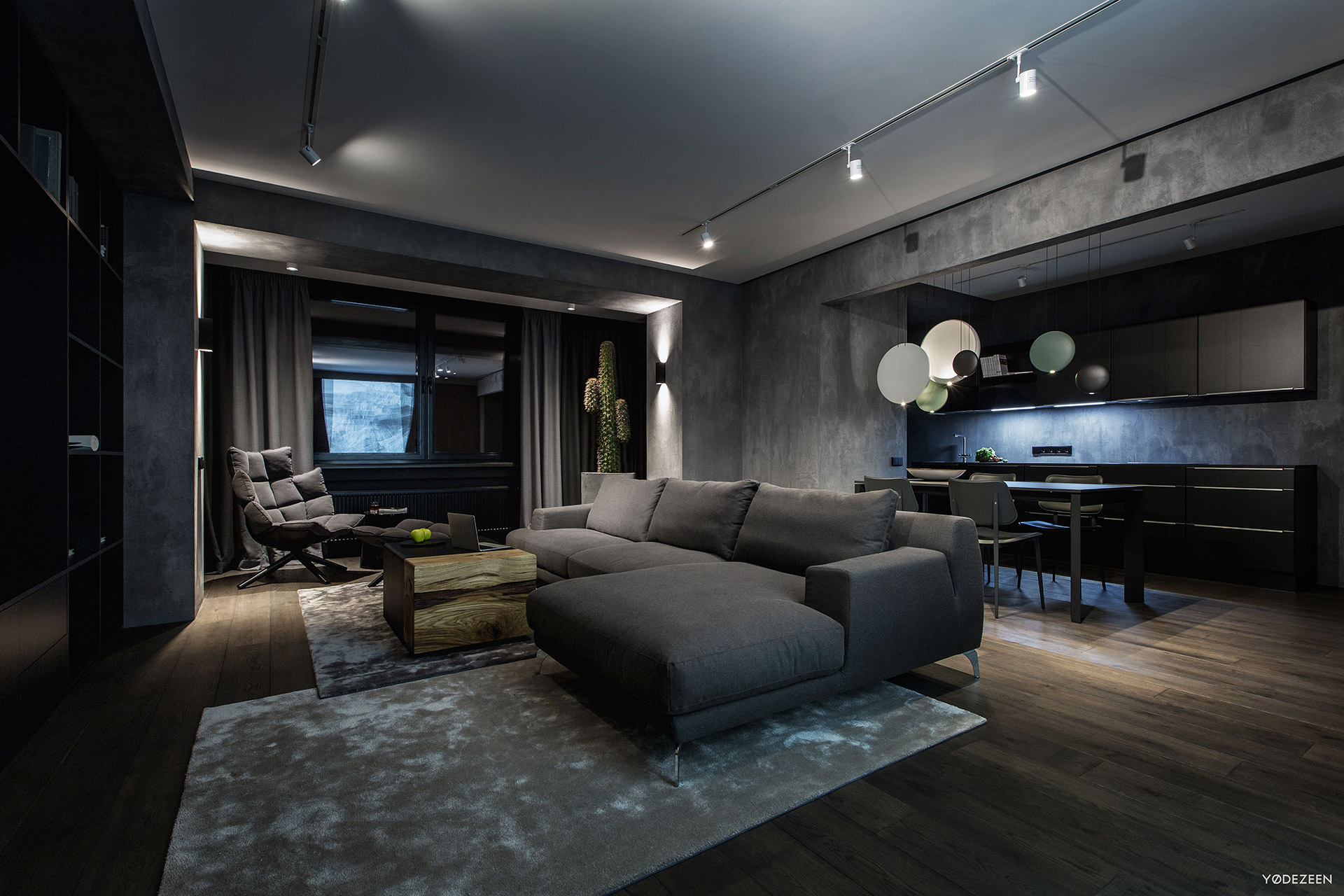 Going with the key color of grey, the monochromatic interior boasts a contemporary consistency in furniture and finishes. Various tones of gray, charcoal, and black can be found in the paint, the upholstery, and even kitchen cabinets.
To soften and warm the space, but still remain true to the scheme, the designers utilized the texture of wood in the flooring. Wood brings an element of warmth to any space, and finishing it in a light grey enhances the dark grain.
Decorating with black furniture can be tough and is often accompanied by lighter tones and pops of color. But not here. The only variant of color we can find in the space is a soft and subtle use of green in some of the suspended lighting and the single cactus that resides in the corner of the living room.
The signature black home décor can be found spread throughout the rest of the 975sqft home as we move from the main living are to the bedroom and bathroom. Only in the bedroom do we find a warmer shade of grey used as a hint of brown has been mixed in. The bathroom is concrete shell with chrome accents and solid white fixtures. This home is a bachelor's twilight dream.
Project team: architects Artem Zverev, Artur Sharf, Irina Babich, interior designer Anna Tarabanova | Photocredit: Andrii Shurpenkov