The bedroom has a special purpose in any residence. It is not just a place to sleep or store clothes in. We seek peace and calm there, our own haven of tranquility, our escapade from the bustling world outside that door.
In this article we're offering 5 popular design themes to help you create a unique ambiance in your bedroom.
Nature offers an unparalleled feeling of peace and balance, a powerful experience that invigorates body and mind.
A nature-inspired bedroom retreat features natural materials on floors, ceilings, walls and furniture, and natural rattan and jute woven lamp shades, stools and side tables complete the bedroom design.
Earth tones dominate in nature-inspired bedroom interiors. White, cream, pale turquoise, browns, tans and sunny yellows are all colors that mirror nature.
Décor highlights are woven rugs made of natural fibers, floral/botanical wallpapers or murals, and decorative pieces brought in directly from the forest, the field, or the beach. Beds and windows are dressed in fine linen cloth, cotton and lace, while soft bed throws, blankets, and decorative pillows of natural fiber add a charming and cozy feel.
Nature is life! So, live plants, green wall panels and charming terrariums would be its perfect expression.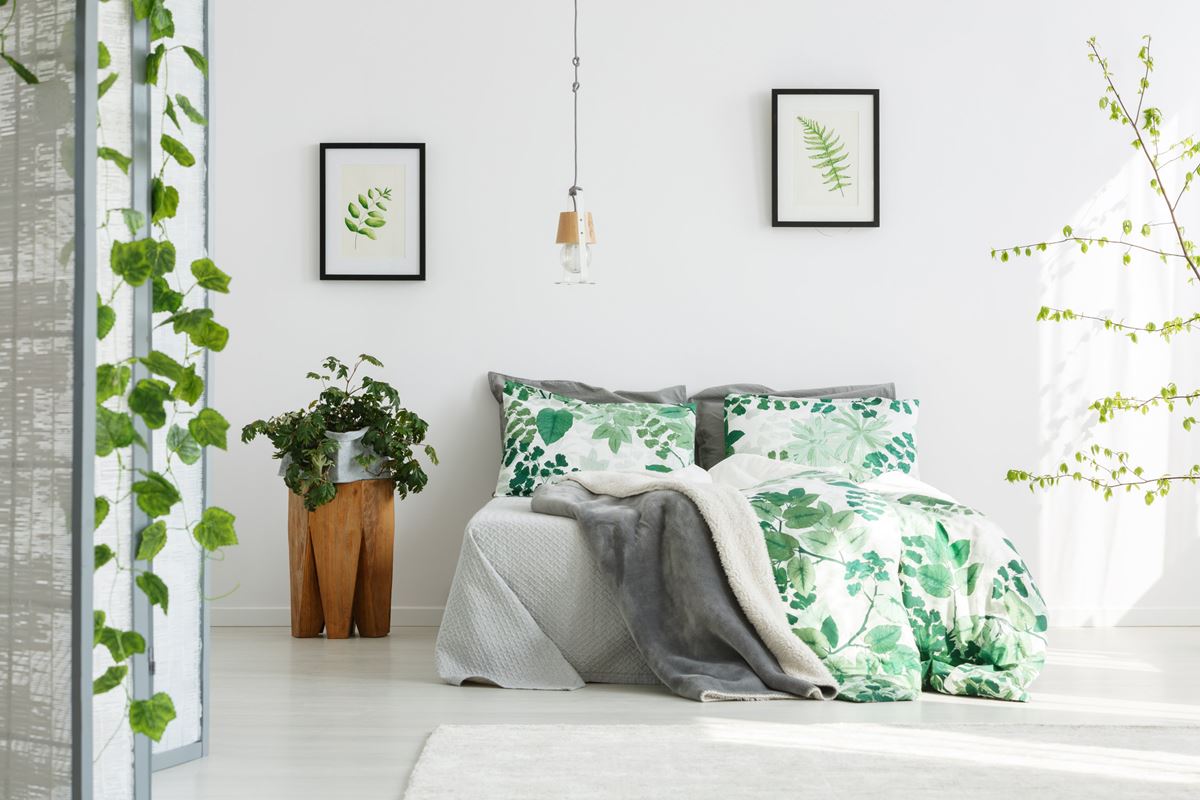 Single or living with a partner, if you're a romantic soul, wouldn't you wish for an intimate "love affair" ambiance in your bedroom?!
A romantic bedroom features various furniture pieces of natural materials and ornate design, with polished or lacquered finish. What would, however, work best for adding a strong romantic vibe is glass! Sparkling in opulent chandeliers, featured on large wall or ceiling mirrors, or filling floor-to-ceiling windowpanes providing spectacular views, glass is essential for creating a romantic feel and look.
The color palettes and combinations range from moody dark tones, through boudoir red, purple and gold, to airy pastels and whites. Posh fabrics, such as silk, satin, plush and kashmir, featuring rich floral print patterns, would be the best choice for bed linen, curtains and drapes, upholstery, and throw pillows covers.
A genuine romantic décor cannot do without adequate lighting, such as statement chandeliers, fairy-light-strings and lots of scent candles, and it displays fine art pieces, large photos and empty frames on the walls, as well as small, cute figurines and shabby-chic items.
This is a bedroom design theme for young and adventurous souls. Structural elements and furniture pieces feature products of contemporary technologies, such as metals, plastic, glass and faux leather, in polished finishes and futuristic, unconventional designs.
The colors range within the darker, "deep-space" tones, to create the background for the theme's highlights.
It is the décor that would generate the 'space' vibe. Walls and ceilings display exciting cosmic scenes of planets and constellations from large custom wallpapers and prints. Lighting is usually not abundant and comes from recessed light fixtures. The room is "dressed" in airy fabrics with a shiny, silky look, and décor items feature futuristic designs.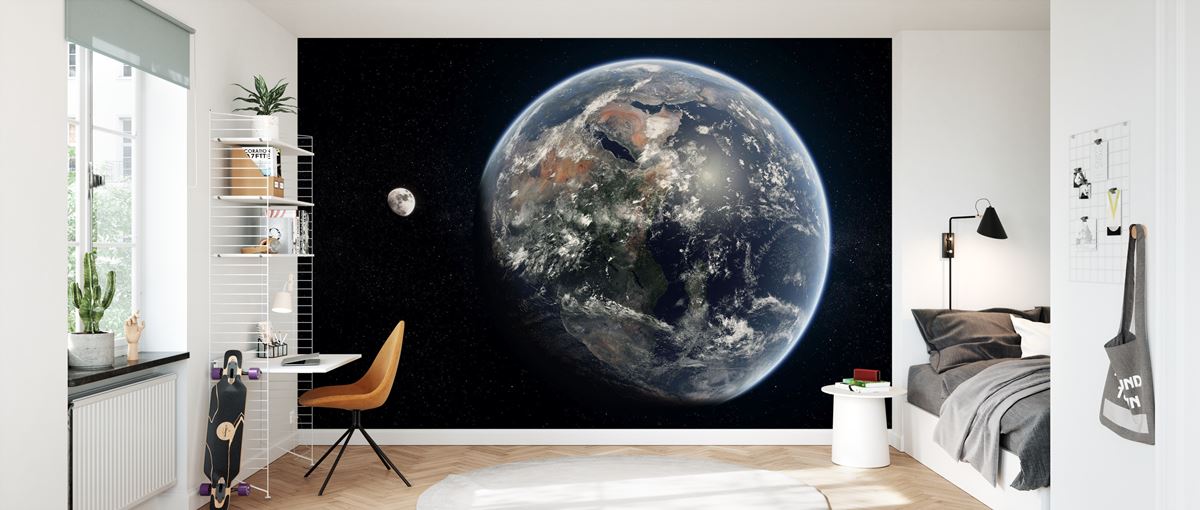 This theme is for those who enjoy feeling the dynamics of life at every moment, and is, naturally, most suitable for bedrooms in city residences.
The urban theme is best created through introducing the highlight elements of the contemporary interior design trend featuring man-made materials, clean lines, light tones and modest décor.
A feature element of urban bedrooms are the large windows most often left entirely undressed to reveal in beauty of the city landscape, day and night. Where such panoramas are not an option, the city and the street life can be pictured on a feature wall through posters, wallpapers, iconic buildings line stickers and even bold graffities.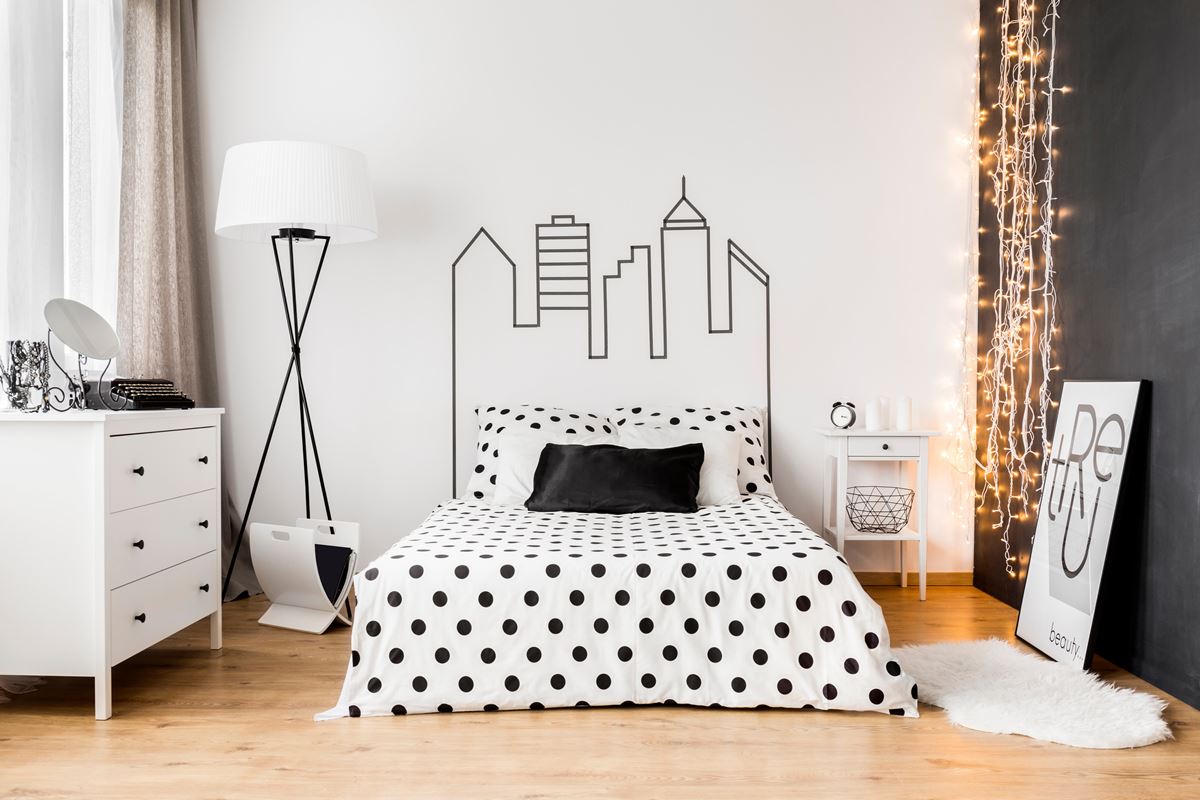 The bohemian design theme embodies free spirit and creativity. It is artistic, as much as flamboyant and eclectic, where traditional design rules are bent to create a layered, personalized look using a laid-back, global-inspired aesthetic.
Floorings and furniture are usually of natural materials, mostly of a somewhat "raw" finish, and rattan or bamboo made swings, baskets and lamp shades, poufs and stools, nightstands and cabinets fill the space.
To create a relaxing ambiance, the general color palette features muted, earthy tones providing a soothing feel, while also a neutral background for the 'explosion' of colors, patterns, textures, and decorations combined to create a unique artistic appeal. "More is more" is a principle of bohemian décor. Colorful rugs and bed throws, decorative pillow covers and upholstery in bright tones and outlandish prints, large, knitted shawls and macramé-s, all scattered in a delightful "mess" create a true boho bliss.