Tame those space constraints with contemporary solutions in adaptive furniture. Ideal for cramped urban spaces that leave little room for indulgences and imagination, this space saving convertible furniture offers both through its design and possibilities. Conceived by Ukrainian designer Julia Kononenko, the Convertible Sofa packs the living-dining into a singular unit that defines a unique, modernist aesthetic.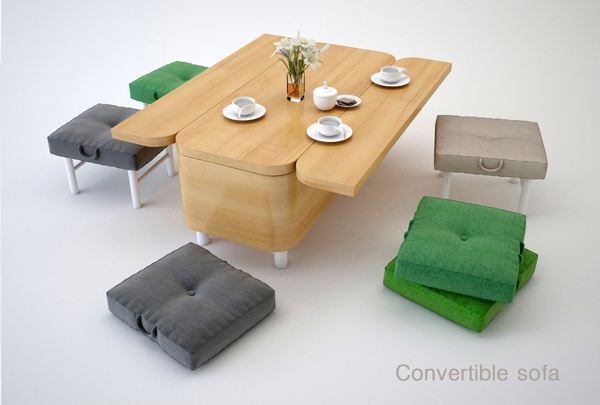 Rendered in soft colors and sinuous lines, the padded sofa doubles up as a cute dining table for six persons. The design is contained and compact in its vocabulary, articulating both functions within a single box design. Opened up the box offers a comfortable, upholstered seating option; in its closed configuration it unfolds into the dining table with the sofa back reinventing itself into the table top. The three seater sofa comes with six cushions which transform into standalone stools for sitting around the dining table.
The wooden finish and rounded corners give both formats a pleasantly contemporary feel, sitting softly among the furnishings and décor. Light and elegant, it wraps up two of the most ordinarily chunky elements into a gracefully contained design that does not weigh down the space or clutter it up. An understated homage to the potential and benefits of space saving convertible furniture, this sofa is sure to save many a space, and day!